Could your sash windows be double glazed?
---
Although fitting double glazing into single glazed sash windows has always been difficult and almost unheard of, Paxton Restoration are now able to offer discreet, ground breaking narrow-profile double glazed units from 11mm rebate depth pinned and puttied in the traditional way.
Our team have embraced the developments in glazing technology and can now save you thousands of pounds in replacement windows.
Call our team now on 0208 778 1100 for more information on our sash window double glazing in London and the Home Counties.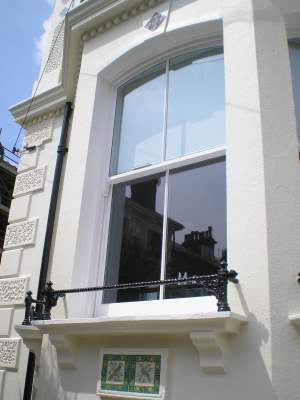 The benefits of quality double glazing in London
---
The double glazing we install is low e (emissivity) glass that reflects long wave radiation into the room, whilst ejecting a majority of UV radiation from the outside, yet allowing maximum visible light to pass. There are a number of benefits for upgrading your sash windows, including:
Double glazing is more energy efficient with a lower environmental impact
Our technique retains Georgian or Victorian aesthetics whilst complying with building regulations
You will notice a reduction in condensation
Energy bills could be drastically reduced
We can also install sand blasted or opaque glass for ultimate privacy to meet your requirements. We use only the leading brands, including Slimlite (Pilkington) and Timbalite (Saint-Gobain), which use low e technology combined with an energy efficient warm edge spacer and filled with insulating Inert Gasses ideal for compression (Krypton and Xenon).